| | |
| --- | --- |
| | This article contains canon information corresponding to the Tales of Arcadia franchise. That means all information in this article is true and has appeared/been validated officialy on-screen. |
Tales of Arcadia is an animated franchise from Guillermo Del Toro, produced by DreamWorks Animation, and created for Netflix.
Production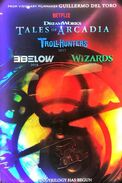 Guillmero Del Toro originally wanted to create a live-action series called "Trollhunters", but due to budget concerns, he made them into a series of books. Dreamworks wanted to make a film adaptation of the books, but they eventually decided to make the television series instead. On November 6, 2017, Del Toro announced that he would expand the series into a trilogy of spin-offs.
Series

From the limitless imagination of acclaimed filmmaker Guillmero Del Toro comes a tale of two worlds set to collide in the epic saga DreamWorks Trollhunters. When ordinary teenager Jim Lake Jr. stumbles upon a mystical amulet on his way to school one morning, he inadvertently discovers an extraordinary secret civilization of mighty trolls beneath his small town of Arcadia. Suddenly destined to play a crucial role in an ancient battle of good and evil, Jim is determined to save the world – right after gym class!

DreamWorks' 3 Below focuses on two royal teenage aliens and their bodyguard who flee a surprise takeover of their home planet by an evil dictator and crash land in Arcadia. Now on the run from intergalactic bounty hunters, they struggle to blend in and adapt to the bizarre world of high school all the while attempting to repair their ship so they can return and defend their home planet.

DreamWorks Wizards brings together the three disparate worlds of trolls, aliens and wizards who have found themselves drawn to Arcadia. The final chapter of the Tales of Arcadia culminates in an apocalyptic battle for the control of magic that will ultimately determine the fate of these supernatural worlds that have now converged.
Videos
Gallery