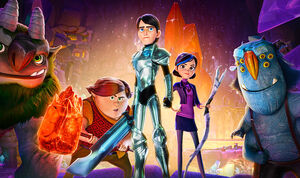 Season 1 is the first season of DreamWorks Trollhunters. It aired December 23, 2016.
Synopsis
Jim along with this best friends, Tobias 'Toby' Domzalski, Claire Nuñez and Blinky, AAARRRGGHH!!! & Draal, his troll companions, must thwart all attempts that happen to harm humans & trolls alike while constantly being attacked by evil forces, and dealing with school life and his oblivious mother.Season 1 contains 26 episodes, consisting of two parts.
Part One focuses on Jim becoming The Trollhunter and discovering evil trolls named "Gumm-Gumm Trolls" who wish to free the Gumm-Gumm leader, Gunmar from the Dark Lands, headed by changeling Walt Strickler & Gunmar's son, Troll brute Bular. Part Two deals with Strickler attempting to take leadership of their community and going rogue by unleashing dormant ancient-troll, Angor Rot on Jim. Jim & his friends also band together to rescue Claire's baby brother, Enrique, who was taken by Goblins to the Dark Lands to create a changeling, nicknamed 'NotEnrique', who ultimately but reluctantly defected to ally with Jim because of the sympathy he feels for Claire.
Other characters introduced include Barbara Lake, Jim's mother, Steve Palchuk, Arcadia Oaks High's resident jock & bully who finds sadistic pleasure in bullying Jim, Toby and most extensively Eli Pepperjack, a glasses-wearing "Nerd" who is actually actively aware trolls exist, but no one believes him. Vendel is an elderly troll who is Heartstone Trollmarket's leader, guardian and notable confidant and Gnome Chompsky is a gnome who resides in Toby's House in his toy house, who volunteers to enter the Dark Lands to rescue Enrique.
Episodes
Ad blocker interference detected!
Wikia is a free-to-use site that makes money from advertising. We have a modified experience for viewers using ad blockers

Wikia is not accessible if you've made further modifications. Remove the custom ad blocker rule(s) and the page will load as expected.